About Me
Hi, I am David Hathcox, a working professional photographer with a photojournalist approach. For 20+ years I have been based in Washington, DC.
Prior to moving to DC I was chief photographer at Texas daily newspapers in Paris and Laredo. While on the US border in Laredo I covered news and features in both south Texas and northern Mexico.
Journalism experience teaches a photographer to think on their feet, to be ready for any situation, to mingle with any crowd, and to always come back with the pictures that capture/report the moment and the experience.
Early on I earned an MA in Journalism/Photography and a BA in Economics. (with a lot of French and Spanish in there somewhere)

Currently my photography work is to provide visual communications and marketing images for both print and web based media for a wide variety of associations, institutions, corporations, and publications. This work includes portraits of individuals and groups, meetings, hill visits and hearings, conferences, association conventions, and general events. My work is primarily in the DC market but I often travel nationally and internationally on assignments. Additionally, I have a basic capability in video.
My style is to get in close when possible, to capture the key moments. My goal is to help make any project or program I am involved with to be a great success. My responsibility is to take the worry out of the photography role for you and help you do the best job you can. My attitude is to play an important role as a member of your communications and marketing team while working together toward a common purpose. My pleasure is making both my subjects and you look your best (and then hopefully I look pretty good myself). My passion is taking great photos.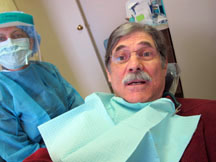 I am easy to work with, I enjoy the contact and relaxed interaction with my clients and subjects whatever the project. I am tall but unobtrusive.
My interest in photography began early in life as I began to document my life and my surroundings. I continue this today, and I bring the same focused attention to any project in which I have the privilege to contribute.
Let me know how I can help to make your next project, program, or event to be a great success. Let me contribute to your mission, as I work to bring additional value to the role of your photographer. There are many choices out there and I will consider it a privilege to be chosen as a member of your team. Give me call, I'd love to get acquainted and talk with you about your next important project.
And remember -- having your portrait made by me is a lot more fun than getting a root canal.
Dedicated to your Success!
©2020 Copyright Notice: All the images presented here are copyrighted and may not be copied, downloaded, printed, or otherwise used in any way without written permission and compensation by photographer as provided for by U.S. Copyright Law.